Who
We
are
Happy Feet Montessori house of children is a dedicated to provide an enriching and challenging educational environment where each child is motivated and encourage to explore and grow to hi/her full potential socially, emotionally and academically
"Education is a natural process carried out by the human individual and acquired not by experiences in the environment"

~ Maria Montessori
The child should feel happy to spend the happy hours at happy feet and we provide such a nurturing environment.
We develop gross motor coordination and time motor skill.
Individual attention is given to each child.
We develop elementary and voluntary movements and muscular memory.
We encourage children to develop themselves independently.
Our

Aim                

At Happy Feet our aim is to bring out the best in each child and to provide children with experiences that lay a foundation for learning through the Montessori framework. Montessori curriculum has been proven highly successful all over the world.
Our school has a bright, inspiring and a purposeful learning environment which allows the child to explore and become independent. We provide a range of opportunities in music, arts and physical activities besides academics.
The teachers at the Happy feet each highly qualified in their field are extraordinarily dedicated mentors.
Montessori method is a hundred year old method and it was started by Dr.Maria Montessori. She was the first women to pracic medicine in Italy in 1800's. During her practice, shestarted working with children and studied their tendencies in learning. While working with them, she came up with the theories which became part of the Montessori Principles & ideas. These ideas then, started spreading throughout the world and thus, the Montessori approach to learning was born.
Montessori starts at birth and continuous up to 18 years of age group. What has gained more popularity in India is from 3 -6 years of age group which is called the primary level in Montessori. Although, plenty of schools in Bangalore are taking Montessori even beyond the age of 6, which is called the elementary level.
We take in children at 2.5 years and they stay with us till 6 years of age group. We cover nursery, LKG and UKG. Our admissions are open throughout the year.
In Montessori, we follow a mixed - age group. Children are catgorised by "planes of development". All children between 3 -6 years belong to the primary environment. They stay together in the same environment for all the three years.
As you might have noticed that we do not have desks and benches; in Montessori, children work with their materials on mats.
Montessori equipped classrooms
Quiet sleeping area for rest and relaxation
Medical support
Outdoor support
Children's library
CCTV surveillance ensuring safety of your child
Transport facility available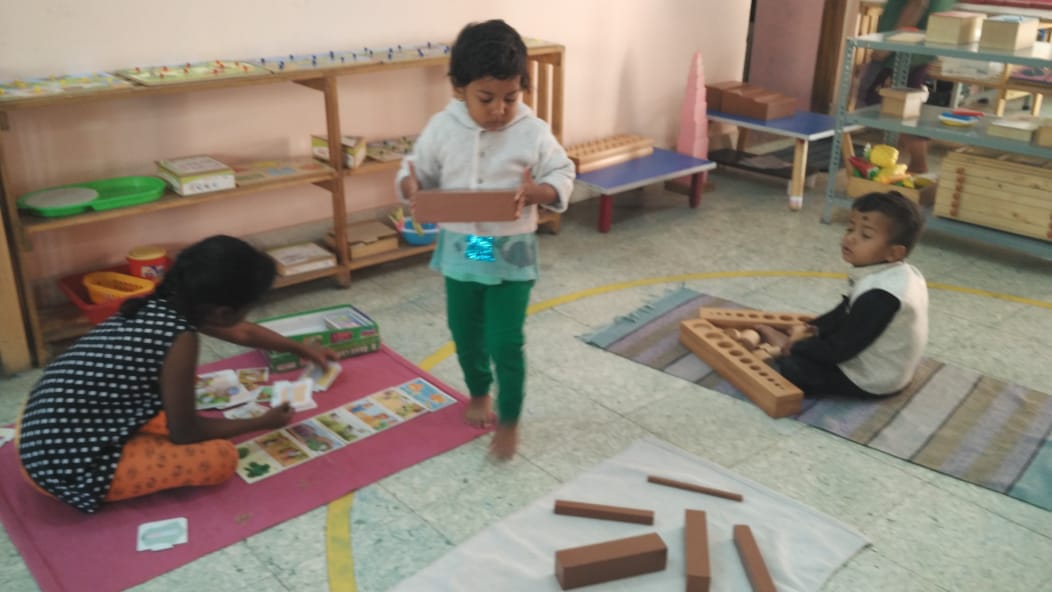 Montessori Approach
There are special Montessori materials for the five main areas of the curriculum.
Practical Life Activities
The main aim of these activities is to help the children care for themselves and their environment. Activities like - folding clothes, how to sweep/mop, how to wash hands, how to button a shirt and the like are part of practical life activities.
Sensorial Activities
The main goal of this area is to help children become aware of the various sensory experiences (visual, auditory, tactile, gustatory and olfactory) and their ability to observe, compare, reason and problem solve
Language
To help children develop reading and writing skills. The Montessori approach is child centric. Children are therefore not forced into reading & writing. It takes place gradually and we expect parents to have patience and faith in the curriculum. The method assures you that your children will be avoid writers and fluent readers by the end of the journey.
Mathematics
Children program from a concrete to an abstract understanding of qualities and their symbols. They develop exactness, reasoning and problem solving qualities.
Culture
Children are enthusiastic learners. They are exposed to various things like art, music, science, geography, cooking, plant/animals life which are part of culture. The teacher guides the children through these activities sequentially.
Play
Play is a serious business for children. During play it is seen that children
Are involved in what they are doing;
Almost always initiate the activity on their own;
Experience intrinsic joy;
Express curiosity and shows the urge to explore.
Play for fosters
Mastery of body control
Exploration
Creativity
Social skills
Emotionally balance
Language skills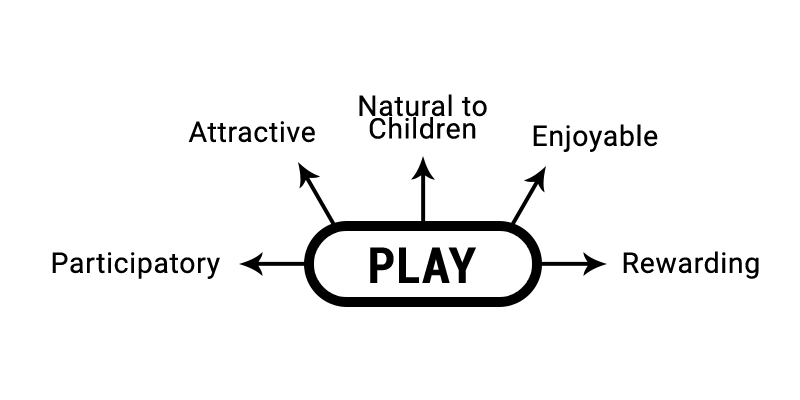 Approach
The Montessori approach is holistic and aims to develop the whole child. Fundamental to the approach is the belief that a child's early years from birth to six are the most important years of a child's life. They have the greatest capacity to learn. The Montessori approach is a hands-on approach. Children learn best by doing. The classroom is well prepared and equipped with Montessori materials. Teachers allow the children to choose their activity of interest and work at their own pace.A three hour uninterrupted work cycle is followed, allowing the children to explore their materials thoroughly in an unhurried atmosphere. They work at a pace that is comfortable for them.